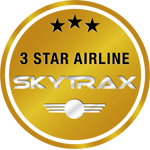 The 3-Star Airline rating signifies a satisfactory standard of core Product for most travel categories (ie. cabin of travel), but it also reflects some inconsistency amongst either standards of front-line Staff Service or Product delivery for the Cabin Service and their home-base Airport environments.
| Aircraft | Seat Pitch | Seat Width | Seat Angle | Seats | Configuration | Internet |
| --- | --- | --- | --- | --- | --- | --- |
| Airbus A321 | 114 cm | 53 cm | | 16 | 2-2 | |
| Airbus A330 | 157 cm | 53 cm | 165 °   | 24 | 2-2-2 | |
| Boeing 777-200ER | 149 cm | 50 cm | 165 °   | 25 | 2-3-2 | |
Airport Lounges
Lotus Lounge is a place for you to focus on your business or relaxation.
Lotus Lounge offers you various comfortable facilities including:
– Service and staff quality are equivalent to inflight's standards.
– Luxurious and elegant space decorated with many trees brings relax and privacy.
– Modern, active interior design in synchronization  with corporation identification system.
– Amenities for business and entertainment:
+ Business area with Internet connected computers
+ Sockets in seating area
+ High-speed Wi-fi connectivity
+ Wide-screen cable/digital televisions
+ Various Vietnamese and International publications
– Meals and beverages: as recognized restaurants and hotels:
+ Diverse dishes structure, balancing among types of meal (breakfast / lunch / dinner/ snack) and regions (Western/ Asian)
+ Fully – service bar offering tea, coffee, juice, soft drinks, alcohol, beer, etc.
– Other amenities:
+ Separate area for smoking
+ Separate area for baggage and pets
+ Bathroom with high-end sanitary equipment, cosmetics and perfume oil.
Special Services
SkyPriority unites the most exclusive airport benefits of all SkyTeam alliance members into one, consistent experience for customers who travel in Business class or are Elite Plus member of SkyTeam. So, regardless of your airline or frequent flyer program, SkyPriority will speed and guide you through your journey with ease.
Who can get SkyPriority benefits?
The SkyTeam Alliance members include the following passengers:
Business Class passenger
Platinum member
SkyTeam Elite Plus member
SkyPriority Benefits:
Priority check-in areas
Priority baggage drop off
Priority service at ticket/transfer desks
Accelerated security and passport clearance*
Priority boarding
Priority baggage handling
Hanoi Noi Bai Int Apt (HAN)
| Terminal Seating | |
| --- | --- |
| Terminal Cleanliness | |
| Queuing Times | |
Ho Chi Minh City Tan Son Nhat (SGN)
| Terminal Seating | |
| --- | --- |
| Terminal Cleanliness | |
| Queuing Times | |
Da Nang Int Apt(DAD)
| Terminal Seating | |
| --- | --- |
| Terminal Cleanliness | |
| Queuing Times | |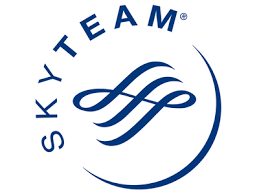 At a glance
Flying business class with Vietnam Airlines offers guests exceptional comfort, modern amenities, superior service and the best inflight entertainment available. Experience luxury in the sky with Vietnam Airlines in world-class fashion.
The Airbus 321 offers Business Class passengers added comfort with a seat pitch up to 45" and a reclining distance of nearly 10".
On this modern wide-body craft, our Business Class seats offer a generous pitch of 62" and can recline up to 170 degrees. With over 10" of vibrant display, our intuitive touch screens are ready to deliver a selection of popular titles to keep you entertained throughout the flight.
Onboard the Boeing 777, passengers can enjoy generous legroom with a spacious 59" seat pitch and recline up to 15''. From cinema classics to the latest chart-topping hits with 10.4'' private screen, our inflight media opens up a whole world of entertainment right at your seat. Noise-cancelling headphones and a personal reading light are also available to help you relax during your journey.
Entertainment on Board
A Rich Trove Of Amusement Awaits You
Get in on the action with the latest blockbuster thriller. Fall deep into a world of drama and romance. Our collection of international hits, feature documentaries, television series, newscasts, and children's programming are regularly updated to keep you engaged and entertained onboard your flight with Vietnam Airlines.
Audio books are available in the A330, A350 and B787.  Make your trip seem so much shorter and soothing by listening and absorbing information on science, culture, lifestyle etc…
If you simply lying back and relaxing with your goo music, you can also enjoy your favorite tunes with soundproof headphones and diverse genres of music available on the aircraft.
Enjoy passing the time with our selection of audio books, soundtracks, and interactive games, available onboard select aircrafts.
The LotuStar pamphlet is available on all flights to help passengers access our selection of onboard entertainment programs. In some cases, the programs could be changed based on your flight schedule.
Food and Beverage
Enjoy the taste of Vietnam with our mouth-watering delights.
Business Class offers a finely crafted menu of exceptional dishes from around the world. 
Vietnam is very proud of its rich culinary culture, a perfect blend of East and West recognized across the globe. Vietnamese cuisine uses the freshest ingredients, always prepared with love. Business Class passengers may also choose from a selection of global delicacies and familiar favorites to suit all tastes.
Our menus are carefully designed to incorporate bold and fragrant local flavors with more classical preparations, guaranteed to satisfy the most delicate gourmet. On 4-star routes, our attention to detail begins with handpicked ingredients all the way down to our handcrafted tableware. Enjoy multiple courses of the finest regional fare, served with exceptional hospitality, from our continuously updated premium menu. Business passgengers are enjoyed not only Vietnamese traditional dishes, but also the number of dishes from all over the world. On some special occasions, namely Chirstmas or German Beer Festival, there are various seasonal dishes served on VN's flight
 Have A Taste Of Vietnam
No Vietnamese experience is complete without indulging in a bowl of delicious Phở Bò,,a savory beef noodle soup accompanied with fragrant herbs. As the most recognized Vietnamese dish, Phở Bò stands among the best cuisines across the globe and ranked 28th on CNN's "World's 50 most delicious foods" list. Our experienced chefs use only the freshest ingredients to ensure the highest quality and authentic flavors in this culinary classic.
Perfectly Pair Your Food With Our Extensive Range Of Libations
Business class passengers can choose from a variety of wines and spirits handpicked by top sommeliers or enjoy our range of non-alcoholic beverages. We've updated our drink selection to feature more options from top brands for your enjoyment.
We've expanded our inflight services, adding several new libations to be served on board Vietnam Airlines. In addition to our classic beverage menu, on 4-star standard flights to destinations such as Europe, Australia, Japan and Korea, customers will have more choices of refreshments, including fresh fruit juice, pasteurized milk, carbonated water, mineral water and more to satisfy the different needs and tastes of our customers.
Bar service is also offered on the routes to Japan, Korea, Europe, and Australasia on the B787 and A350 aircrafts.
Experience Vietnam With One Of Our Signature Spirits
Inspired by the beauty of Vietnam, famed mixologist Vo Tan Si lends his tasty concoctions to Vietnam Airlines Business Class. Guests can enjoy a lovely narrative of the country's vitality while sipping a "Hello Vietnam", sip a glass of Red River wine as the craft soars above the Red River of the Northern Plains, or cool off with a lemon-scented Saigon Sunlight while taking in aerial views of the sun setting over the gorgeous landscape.
Our range of speciality cocktails is currently only available on flights to Japan, Korea, Australia, France, Germany and the United Kingdom.