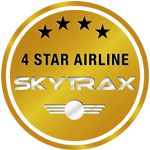 The Certified 4-Star Airline Rating recognizes those airlines that provide a good Product standard across different travel categories (ie. cabin travel classes), combined with delivering good standards of Staff Service for both the Cabin Service and their home-base Airport environments.
| Aircraft | Seat Pitch | Seat Width | Seat Angle | Seats | Configuration | Internet |
| --- | --- | --- | --- | --- | --- | --- |
| Airbus A330 | 97 cm | 46 cm |   | 56 | 2-3-2 | |
| Airbus A340 | 97 cm | 46 cm | 105 °   | 28 | 2-3-2 | |
Airport Lounges 
(Business and First Class Only)
-relax before your flight
Your travel experience begins in our lounges. 
Feel free to stop by, relax, get connected and make use of your time at the airport doing exactly what you want and need to do. You can you use your time any way you like: you can catch up on work, rest or enjoy excellent food and beverages. Depending on where you are, you will find our concepts SAS Gold Lounge, SAS Lounge, SAS Domestic Lounge, SAS City Lounge (Stockholm) or SAS Café Lounge.
SERVICE IN OUR LOUNGES
Work: Our lounges offer space to let you work effectively on your own computer or a loaner desktop computer. Often with guest offices, printers and telephone booths for undisturbed conversation and always-free WiFi. Copenhagen also features a conference room for booking with a capacity of 14 people.
Relax: Pass the time with an inspiring magazine, read the paper in the SAS App or watch your favorite TV series. At some SAS lounges, you can even freshen up with a shower. And if you're traveling with your family, younger travelers will love our Kids' Room at select destinations.
Food and beverages: Enjoy a delicious buffet, fresh salads and excellent wines. SAS Lounge and SAS Gold Lounge also offer meals and a wide range of beverages. SAS Domestic Lounge offers a snack buffet and SAS Café Lounge offers a coffee bar.
NEW: DIGITAL NEWSPAPERS & MAGAZINES IN SAS LOUNGES!
Now when you visit SAS Lounges you can download a wide selection of newspapers, magazines, books and more in the SAS App. Digital publications are also available from 22 hours before departure on SAS flights.
From 1 March, all of the newspapers you enjoy with SAS will be digital. This is just another way we're digitalizing the customer experience – and operating more sustainably.
Opening hours SAS Lounges:
Our Lounges are open according to the SAS summer and winter timetables and public holiday timetables, such as at Easter, Christmas, and New Year, which can mean variable opening hours. We are open around 60 minutes before the first SAS departure and close around 30 minutes before the final scheduled SAS departure.
SAS LOUNGES
Nordic region
Lounge
Location
 
 
Copenhagen
Denmark
SAS
Terminal 3, to the left of the exit from SAS Fast Track
SAS Gold Lounge
SAS Lounge
Oslo
Norway
SAS
Transit hall 3rd floor, entrance up stairs or elevator to the left after duty-free
SAS Gold Lounge
SAS Lounge
Oslo
Norway
SAS
Domestic transit hall near gate 15
 SAS Domestic Lounge
Stockholm
Sweden
SAS
Terminal 5, transit hall A, gate 1 after security control opposite SAS Service Center, 4th floor
SAS Gold Lounge
SAS Lounge
Stockholm
Sweden
SAS
Terminal 4, near gate 37, 4th floor
 SAS Domestic Lounge
Special Services
Priority check-in areas
Priority baggage drop off
Accelerated security and passport clearance
Priority boarding
Priority baggage handling
Stockhom Arlanda Apt (ARN)
| Terminal Seating | |
| --- | --- |
| Terminal Cleanliness | |
| Queuing Times | |
Copenhagen Kastrup Int Apt (CPH)
| Terminal Seating | |
| --- | --- |
| Terminal Cleanliness | |
| Queuing Times | |
Oslo Gardermoen Int Apt (OSL)
| Terminal Seating | |
| --- | --- |
| Terminal Cleanliness | |
| Queuing Times | |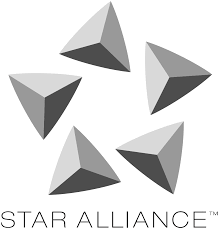 At a glance
– high-class comfort & service
When you fly in SAS Plus, you can count on high-class comfort & service. Sit in a separate cabin with larger seats, extra leg room & 30 cm/12″ HD screens & enjoy tasty food & drinks inflight. You will also have access to power/USB points & free WiFi. This fall, you will be able to make calls & use your mobile phone inflight (through a GSM connection – just like on the ground, you will be charged international roaming rates by your mobile operator).
Seat configuration: 2-3-2*
Seat pitch (distance to seat in front, head rest to head rest): 97 cm/38″
Recline (reclinable seat back): 18 cm/7″
First row in SAS Plus has leg rests, other rows have foot rests
On-demand entertainment system with 30 cm/12" HD screens
Individual power & USB ports
Note: one of our aircraft has an atypical SAS PLUS configuration with narrower seats and less leg room.
*On flights operating one of our A340 aircraft, SAS Plus is offered in a 2-4-2 configuration.
Entertainment on Board
Our intercontinental flights offer movies, music and games on personal screens. We are currently refitting our fleet with a new improved inflight entertainment system. This means more content including:

more than 200 hours of Hollywood blockbusters and TV Box-sets
on-demand services for all passengers
power outlets in all seats with extra USB charging possibilities
The refitted planes also offer WiFi in the air. The service is free for passengers in SAS Business and SAS Plus whilst SAS Go passengers pay a fee to enjoy the surf the entire flight. Earphones are distributed for free to all passengers.
We endeavor to offer something for everyone. We hope you have a restful and enjoyable flight.
Food and Beverage
On our intercontinental flights, food, snacks & drinks are included in all booking classes (alcohol-free drinks in SAS Plus). The selection & variety depends on the time of day you are flying & whether you're traveling in SAS Extra or SAS Plus. In addition, you can also purchase drinks & snacks from our onboard menu