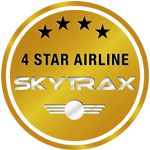 The Certified 4-Star Airline Rating recognizes those airlines that provide a good Product standard across different travel categories (ie. cabin travel classes), combined with delivering good standards of Staff Service for both the Cabin Service and their home-base Airport environments.
| Aircraft | Seat Pitch | Seat Width | Seat Angle | Seats | Configuration | Internet |
| --- | --- | --- | --- | --- | --- | --- |
| A330-300 | 208 cm | 56 cm | 180 °   | 20 | 1-2-1 | |
Airport Lounges
If you want to catch up on work before you travel, enjoy a snack or simply unwind, you'll find our lounges the perfect way to relax from the main terminal
Why not help yourself to complimentary food and beverages, including a selection of fine wines from around the world.
We've got dedicated business centres, free WIFI and complimentary PC's are available in the lounges.
Complimentary 15 minute massage from our Business Class Muscat.
We recommend that you eat before you fly on selected flights so that you can maximise your sleep on-board the world's best business class seat.
Majan Lounge
The Majan Lounge opened its doors in July 2012 and offers an exceptional standard of hospitality and comfort, all within a uniquely modern ambience which also retains key elements of Omani culture and heritage.
It is open to Premium Guest travelling on airlines operating from Muscat International Airport and for Oman Air guests holding Gold and Silver Sindbad membership who are travelling in Economy Class.
Our Majan lounge services include
A professional Team of customer service staff and lounge hostesses on hand
An extensive range of snacks from our buffet counter.
A fully manned bar offering alcoholic and non-alcoholic drinks.
Quiet and relaxation lounge area with recliner chairs
Daily selection of international newspapers and magazines .
Full HD satellite TV entertainment system.
Shower rooms with towels, toiletries and shaving kits.
Baby changing facilities.
Disabled access with dedicated bathroom and shower.
Full free wireless internet access.
Business centre.
Prayer Room.
Where to find the Majan Lounge at Muscat International Airport
The Majan Lounge is located on the ground floor of the departure terminal, after the immigration counters.
Note *For all our Business class Guests,Sindbad Gold and Silver members, travelling to domestic destinations (Salalah, and Khasab), you are invited to our Majan Lounge located on the ground floor of the departure terminal in Muscat International Airport. 
Special Services
Priority check-in areas
Priority baggage drop off
Accelerated security and passport clearance
Priority boarding
Priority baggage handling
Premium Chauffeur Drive Airport Transfer Service
At Oman Air, we believe in offering our premium travellers a host of distinctive services that will enhance their travel experience.
Our First and Business Class passengers can now avail of our complimentary Chauffeur Drive airport transfer service at select destinations across our network.
With an attentive service that comes with a personal chauffeur, luxury vehicles and speedy door-to-door transfers, you can now travel in comfort and style with Oman Air.
Avail our complimentary chauffeur drive service at all airports where this service is offered irrespective of whether it is available at both origin and destination.
The chauffeur drive service is offered with our compliments for a fixed distance to and from each airport. However, if you wish to travel further than the fixed distance, we can arrange for this at a charge that you would pay directly to the chauffeur.
Chauffeur drive service locations
Destination
Airport
Distance Included
Middle East
Oman
Muscat
Muscat International Airport
Within 60 Kms
Europe
France
Paris
Charles de Gaulle International Airport
Within 50 Kms
Germany
Frankfurt
Frankfurt am Main Airport
Within 50 Kms
Munich
Munich International Airport
Within 50 Kms
Switzerland
Zurich
Zurich International Airport
Within 60 Kms
United Kingdom
London
London Heathrow Airport
Within 50 Miles
Asia
India
Bangalore
Bangalore International Airport
Within 50 Kms
Chennai
Chennai International Airport
Within 50 Kms
Delhi
Delhi International Airport
Within 50 Kms
Hyderabad
Hyderabad International Airport
Within 50 Kms
Mumbai
Mumbai International Airport
Within 50 Kms
Thailand
Bangkok
Bangkok International Airport
Within 60 Kms
Singapore
Singapore
Singapore Changi Airport
No restriction
Sri Lanka
Colombo
Colombo International Airport
Within 80 Kms
First and Business Class passengers holding a confirmed ticket on Oman Air are eligible for the complimentary Chauffeur Drive Service. Passengers holding a waitlist ticket on Oman Air or tickets collected on departure at the airport are not eligible for this service.
The Chauffeur Drive Service is available to First and Business Class passengers holding tickets in revenue booking classes P, F, J, C and D only.
Booking class R is eligible for the Chauffeur Drive Service only for sectors that start or end in Europe (except Switzerland) or for sectors that start or end the Far East. Eligibility of fare for this service may be checked with the local Oman Air office or travel agent at the time of making a flight reservation.
This service must be booked at least 48 hours prior to the scheduled flight departure.
Redemption tickets, complimentary tickets or complimentary upgrades from Economy Class to Business Class do not qualify for the Chauffeur Drive Service. Passengers holding such tickets are not eligible for the service.
Chauffeur Drive Service is available on flights operated and marketed by Oman Air. Code share flights with other airline flight number and flights operated by other airlines and marketed by Oman Air are not eligible.
Unaccompanied minors can avail of this service only if accompanied in the car by a parent.
Children under 12 years must use an appropriate child car seat as per the local laws to avail chauffeur drive service. Child car seat is not included in the service provided.
Muscat Seeb Int Apt (MCT)
| Terminal Seating | |
| --- | --- |
| Terminal Cleanliness | |
| Queuing Times | |

At a glance
Oman Air's Business Class seat outshines most other airlines' First Class offering.
Twenty seats (1:2:1 four abreast seating)
Fully flat bed (180 degrees)
Bed length 77.5 inches
Seat width of 22 inches
Seat pitch of 82 inches
Electrically controlled backrest/seat bottom
Electrically controlled leg rest
Electrically adjustable seat pan depth
Folding side armrest
One-piece meal table
Cocktail table
Literature pocketHandset provision
Headset compartment
Life vest compartment
Buddy seat and coat hookReading light
17-inch Gen. III monitor in the front partition
Two USB plugs
Ethernet plug (RJ45)
One audio and video assumption (RCA) plug
PC power outlet
* May differ per aircraft model. 
Entertainment on Board
Oman Air is delighted to offer complimentary Wi-Fi to passengers travelling in First Class Cabins for duration of their flight. Our Air Stewards will provide you with access to get online with your chosen device.
Whichever cabin you are travelling in, you can send SMS or make calls to your friends, family or colleagues with our mobile services. Log-on and check emails, message your friends, surf the web and update your social media with Oman Air's WY-Fi services.
Our flexible pricing allows you to choose the level of connectivity that suits your needs, whenever you are on-board our Airbus A330 and Boeing 787 connected flights. Log on today from as little as $10.
To make in-flight calls from your mobile phone, international roaming charges will apply and these will vary according to your mobile service provider and your individual service package. For specific pricing details, please contact your provider before flying.
Don't miss out and stay connected on your next Oman Air flight! 
Food and Beverage
Each of our Premium customers is greeted onboard with a warm and traditional Omani welcome, including Arabic dates and coffee.
A wide ranging menu of both modern and traditional fine dining and Arabic signature dishes is offered in both our First and Business Class cabins. However, our valued guests may also request their special designed meals on our website via Service by Design.
Our expert chefs use only the highest quality seasonal ingredients and each dish is served on unique, bespoke chinaware.
Our award-winning wines and champagnes are carefully selected to complement your dining experience and all drinks are served in top quality glassware.
In addition to our award-winning wine cellar, we offer a wide range of fine teas and coffee, as well as a wide selection of non-alcoholic beverages.