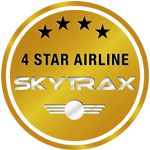 The Certified 4-Star Airline Rating recognizes those airlines that provide a good Product standard across different travel categories (ie. cabin travel classes), combined with delivering good standards of Staff Service for both the Cabin Service and their home-base Airport environments.
Aircraft
Seat Pitch
Seat Width
Seat Angle
Seats
Configuration
Internet
Airbus A330 (wird noch umgerüstet)
–
–
180 °  
Boeing 747-400
160 cm
58 cm
180 °  
35
2-1-1
2-2
2-1
Boeing 777-200ER
160 cm
51 cm
180 °  
34
2-2-2
Boeing 787'9
180 °  
Airport Lounges.
Our worldwide network of airport lounges offers relaxation and comfort during your journey.
Lounge access policy
Enjoy all our lounge facilities before your departure or transfer if you are a Business Class passenger, Flying Blue Platinum or Gold member, or SkyTeam Elite Plus member.
Lounge facilities
In the hectic environment of the airport, our lounges are an oasis of peace and comfort. Whether you need business facilities or simply a place to relax, you will find what you are looking for in our lounges.
Standard facilities
Enjoy a bite to eat from our buffet, or a drink with a snack at the bar in a comfortable, quiet environment. Be entertained with television or use one of the work spaces. At Amsterdam Airport Schiphol you can freshen up with a shower or change your baby. And of course we are there to help you with your every request!
Facilities in our KLM Crown Lounges
Designed by the prestigious Dutch design company, Studio Linse, our KLM Crown Lounges around the world offer a stylish environment with plenty of privacy and space. At Amsterdam Airport Schiphol alone our Lounge 25 (Schengen area) and Lounge 52 (intercontinental) together measure almost 6,000 m2! In an area of calm, we offer:
Rest areas
Healthy snacks and drinks
Entertainment
Computers with free WiFi and laptop charging facilities
Fax, telephone, and photocopiers
International newspapers
Our KLM Crown Lounges are easily accessible for people with disabilities. There are smoke free areas and areas designated for smoking.
Facilities in SkyTeam Exclusive Lounges
At several airports around the world SkyTeam Exclusive Lounges offer everything for you to unwind in comfort before takeoff. Relax in a stylish environment with plenty of privacy and a unique 24/7 space giving a real sense of luxury. Enjoy the luxurious amenities such as:
Wellness centre with full-body massage chairs
Oxygen bar
WiFi Internet access, electrical outlets and PC help from our business centre
Complimentary refreshments
Lounge check-in
Our KLM Crown Lounges at Amsterdam Airport Schiphol, Houston and Toronto have check-in services for transfer passengers. Transfer passengers at Paris-Charles de Gaulle Airport can check-in at the Air France Lounge in Terminal 2E.
Amsterdam Airport Schiphol (AMS)
You can enjoy rest areas, entertainment and healthy snacks and drinks in our KLM Crown Lounges across the world. At Amsterdam Airport Schiphol  we also offer work spaces with Wi-Fi, showers, and specially designated smoking areas.
The KLM Crown Lounges at Amsterdam Airport Schiphol are open from 04.45 hours until the last KLM flight departs. 
Special Services
SkyPriority
With SkyPriority, you will enjoy a red-carpet treatment at the airport. Exclusively for KLM Business Class passengers and Flying Blue Gold and Platinum or SkyTeam Elite Plus members.
Priority service and assistance
Using the SkyPriority services will speed up your departure, transfer or arrival, meaning you spend less time at the airport. This means seamless connections and consistent comfort. From Priority Check-in to Priority Boarding, the SkyPriority Services are waiting for you. Find the SkyPriority signage at the airport or use the SkyPriority Finder  and enjoy the following services:
Priority check-in areas
Enjoy a dedicated check-in desk with fast check-in and courteous service.
Priority baggage drop-off
Check in your baggage at special drop-off locations quickly.
Priority service at ticket and transfer desks
Access priority lanes at our KLM ticket offices and KLM transfer desks.
Faster security and passport clearance
Where available, access dedicated lines to help clear you through immigration and security faster.
Priority boarding
Board the aircraft as one of the first through the priority boarding lane.
Priority baggage handling
Grab your bag first off the carousel with priority delivery from the aircraft to the bag belt.
Amsterdam Schipol Apt (AMS)
| Terminal Seating | |
| --- | --- |
| Terminal Cleanliness | |
| Queuing Times | |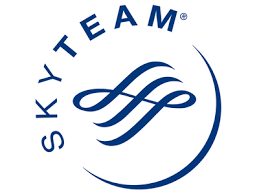 At a glance
Discover the new World Business Class
World Business Class is being transformed on increasingly more KLM aircraft! Designed by a famous Dutch designer, it will make you truly feel at home on board with us. Plus, you'll float to your next destination in the new, super comfortable, full-flat seats:
180 degrees reclinable and 207 cm (81.5 in) long
In-seat power and privacy canopy
Personal entertainment system with 17 in screen
In-seat power
World Business Class comfort kit designed by Dutch designer Jan Taminiau
International newspapers and magazines 
Entertainment on Board
The latest box office hits, brilliant music, powerful drama, exotic nature documentaries, and much, much more… Interested in knowing more about the wide range of entertainment available during your KLM flight? 
Many choices and a personal screen     
Enjoy more than 1000 hours of interactive entertainment on all intercontinental KLM flights and in various languages – from the moment you take your seat until you leave the aircraft again:
More than 80 and in the newest entertainment system more than 200 films, including recent releases, classics and world cinema. Many of these you can view in Arabic, Chinese, Dutch, English, French, German, Japanese, Korean, Portuguese or Spanish
Television programmes including comedy, drama, People & Planet, travel, concerts, sports and lifestyle
Hundreds of CDs and exclusive KLM music specials
Language courses
Dedicated Kids channels
Audio books
Games
All of this can be enjoyed on your own personal interactive screen on almost all intercontinental KLM flights (except on KLM flights to Tel Aviv on a Boeing 737 aircraft).
We update our in-flight entertainment selections around the first of every month.
KLM Movies&more app
The free KLM Movies&more app lets you view the inflight entertainment offerings for the current month for every intercontinental KLM flight:
Complete overview of films, TV shows, music and children's programmes
Trailers for the latest films
WiFi on board
On increasingly more of our aircraft you can stay connected with your friends and colleagues, and use the Internet through WiFi. At the moment, you can use WiFi on all of our brand new Boeing 787 Dreamliners and on 1 of our Boeing 777-300 aircraft.
If the aircraft used for your KLM flight is equipped with WiFi, you can simply go to onboard.klm.com during your flight. When the aircraft has reached a certain altitude after take-off you can buy various WiFi vouchers which you can immediately redeem to use during your flight.
The Holland Herald, our award winning magazine
Launched in 1966, the Holland Herald is not only the oldest in-flight magazine in the world, but also the biggest English language magazine in the Netherlands!
The magazine looks at an exciting theme every month. Articles cover travel, lifestyle, fun gadgets, and interesting facts and figures.
Looking for things to do? The Holland Herald gives an agenda of the Netherlands' cultural events and descriptions of KLM's destinations!
You can also enter the famous KLM/Holland Herald photo competition. No wonder most of our passengers take their copies away with them!
Every edition also lists the tax free articles for sale on board. 
Food and Beverage
We make sure you get only the very best on all KLM intercontinental flights. Before the aircraft even leaves the ground, we welcome you on board with a glass of champagne or fruit juice.
Meals
Enjoy a special dinner prepared by a Dutch top chef Jonnie Boer* and served on tableware created by Dutch designer Marcel Wanders. You create your own dinner from the options available:
Choice of cold starter or vegetarian soup.
Choice of several main dishes, tailored for the time of day.
Choice of several desserts, including pie, fresh fruit and a selection of cheeses, accompanied by a glass of port or dessert wine.
On KLM flights longer than eight hours with an early morning arrival time, you can select your preferred breakfast. We offer egg dishes, pancakes, yoghurt, granola, cornflakes, bread with various toppings and fruit.
We vary our menus regularly and use fresh ingredients wherever possible.
Beverages
During your KLM flight, you always have numerous beverage choices, from soft drinks and fresh fruit juice to beer and mineral water. We also serve hot and cold drinks (alcoholic and non-alcoholic) together with your meal.
A glass of good wine is the perfect accompaniment to your dinner. Our wine stewards select premium and award-winning wines, specially blended for you to enjoy while flying high.
Between-meal snacks
Between meals, we offer a selection from a wide range of healthy, savoury and sweet snacks, including delicious sandwiches, raw vegetables with dip and organic Australian ice cream.