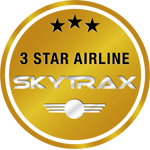 The 3-Star Airline rating signifies a satisfactory standard of core Product for most travel categories (ie. cabin of travel), but it also reflects some inconsistency amongst either standards of front-line Staff Service or Product delivery for the Cabin Service and their home-base Airport environments.
| Aircraft | Seat Pitch | Seat Width | Seat Angle | Seats | Configuration | Internet |
| --- | --- | --- | --- | --- | --- | --- |
| Airbus A320-200 | 114 cm | 72 cm |   | 16 | 2-2 | |
Airport Lounges.
Passengers can relax in the tranquillity of the quiet areas, catch up with home or the office using our state-of-the-art business facilities or freshen up using the toiletries in our fully stocked washrooms.
Eligibility:
Falcon Gold passengers
Black, Gold and Silver Falconflyer card holders
Black card holders may bring two travel companion into lounge with them, free of charge
Gold card holders may bring one travel companion into the lounge with them, free of charge
Free lounge access is not available if you are travelling on flights operated by other carriers (including Gulf Air codeshare flights)
Bahrain Lounge
Designed to reflect the essence of Gulf Air and its traditions of hospitality, the Gulf Air lounge at Bahrain International Airport features personalised service in a contemporary setting. Every facility is available, for those who wish to work, to snooze or simply to catch up on global events.
Upon entering, guests are welcomed by a gracious hostess and immediately assailed by the aroma of fresh coffee – a far cry from the usual bustle of international airports.
A panoramic view of aircraft taking off and landing provides a diverting backdrop to the sleek minimalist Arabian style incorporated throughout the lounge. Elevated seating areas offer comfort and privacy to guests, while plasma screens hanging from the ceiling provide news and entertainment.
Facilities include:
'The Dining Room' a new restaurant concept for Falcon Gold passengers wishing to dine before their flight, leaving their flight free to rest or work.
Our dedicated childcare service for children has been extended to the Bahrain lounge, and the Sky Nanny is available from 1830 to 0200 each evening to provide a wide range of on-the-ground services to complement the much heralded on board service.
The colourful Family Section, designed specifically for the convenience of those travelling with children. This separate seating area features a playroom with Microsoft X-box systems and the latest games.
The Business Centre is fully equipped with telephones and fax services as well as Apple Mac computers, a world first in an airline lounge. And for the convenience of those with their own laptops, wireless Internet access is available allowing connection from anywhere in the lounge.
Quiet room with five chaise lounges offers privacy and comfort for total relaxation.
Separate state-of-the-art shower facilities for male and female guests.
Prayer rooms 
Falcongold Lounge
The Falcon Gold Lounge in Bahrain International Airport offers a place of serenity, away from the hustle and bustle of the departure area, where our guests are able to unwind, catch up on work or just chill out.
We are proud to offer our newly opened 'Quiet Lounge', a unique collection of individual sleeping cubicles which offer privacy and comfort for those guests who would like to rest before their flight. The cubicles contain a full-sized divan, dressed enticingly with fresh cotton sheets, pillows and duvet. A wide screen LED TV with on-demand TV channels, premium wireless headphones, personal reading light, side table, coat hangers and power connection enhance your total comfort experience. A basket of convenience amenities are also provided for your exclusive use. The lights can be dimmed or turned off completely and the 'do not disturb' button ensures complete rest and privacy. There is a small fee for the use of this area which will be charged separately.
We offer an extensive selection of complimentary hot and cold food and drinks, including a range of international dishes and tempting snacks from our buffet.  In the 'Lavazza' section, you can help yourself to the finest Italian coffee or an assortment of speciality teas.
For our younger guests, the family area offers a selection of children's toys and an X-Box zone with the latest games which will keep them occupied during their stay. Our Sky Nanny will be more than happy to keep them entertained while Mum and Dad take a well-deserved rest.
For those of you who prefer to choose your own media entertainment, we offer our Personal Media Players. These are individual hand-held or table-mounted devices with 7" screens, loaded with superior digital media in the form of up-to-date movies, music and games.
Away from the main lounge, you will find a comfortable smoking lounge with wide screen LED TV. For the comfort of our other guests, the use of electronic cigarettes is only permitted in the smoking lounge. Two prayer rooms are available and there are shower suites for those who wish to freshen up.
All our facilities are accessible to guests with reduced mobility, and our dedicated lounge personnel will be delighted to assist all our guests during their stay with us. Entry for Falcon Gold customers and Gold and Silver Falconflyers is free, while our Blue Falconflyers and customers travelling in Economy may be eligible for entry for a nominal fee, subject to space availability..
Special Services
Priority baggage check-in
Priority Immigration and Security Lane
Priority boarding
Priority baggage claim
Bahrain Int Apt (BAH)
| Terminal Seating | |
| --- | --- |
| Terminal Cleanliness | |
| Queuing Times | |
At a glance
Entertainment on Board
Food and Beverage