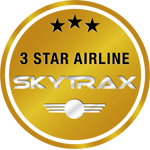 The 3-Star Airline rating signifies a satisfactory standard of core Product for most travel categories (ie. cabin of travel), but it also reflects some inconsistency amongst either standards of front-line Staff Service or Product delivery for the Cabin Service and their home-base Airport environments.
| Aircraft | Seat Pitch | Seat Width | Seat Angle | Seats | Configuration | Internet |
| --- | --- | --- | --- | --- | --- | --- |
| Airbus A330 | 152 cm | 53 cm | 172 °   | 24 | 2 – 2 – 2 | |
| Boeing 737 | 120 cm | 53 cm | 172 °   | 8 | 2 – 2 | |
Airport Lounges
NEW TABUA CLUB LOUNGE AT NADI INTERNATIONAL AIRPORT
Fiji's national carrier Air Pacific has officially opened its new Tabua Club Lounge at its home base at Nadi International Airport, the country's international gateway. Conveniently sited on the ground floor of the Departure Hall of the airport, the Tabua Club Lounge is located to the left of Air Pacific's premium business lounge. It is for the exclusive use of the airline's Tabua Club members and those customers wishing to pay to use lounge services in Nadi before their international flights.
The new 75-seater lounge offers customers an affordable and relaxing way to unwind and refresh before their flight. It provides a quiet, inviting environment which will be especially attractive to those flying during busier departure times at Nadi. Our guests can enjoy a delicious selection of hot and cold savoury bites prepared by some of the best local culinary hotspots, and beverages which include a great selection of alcoholic and non-alcoholic drinks. With shower facilities and high-speed internet access, the Tabua Club Lounge is our Fijian Oasis, catering to the discerning traveller who enjoys the little extras.
Air Pacific's privileged Tabua Club members will have complementary access to the Lounge when travelling on the day on an Air Pacific ticket. Other guests wishing to use lounge services can do so at F$75 per day, available for purchase at check-in counters or at the Lounge reception.
The new Tabua Club Lounge is a demonstration of Air Pacific's continued commitment towards enhancing the travel experiences of its guests. It complements the existing premium Business Class Lounge, which is now dedicated exclusively to our Business Class customers.
Special Services
Priority baggage check-in
Priority Immigration and Security Lane
Priority boarding
Priority baggage claim
Nadi Int Apt (NAN)
| Terminal Seating | |
| --- | --- |
| Terminal Cleanliness | |
| Queuing Times | |
Suva Nausori Apt (SUV)
| Terminal Seating | |
| --- | --- |
| Terminal Cleanliness | |
| Queuing Times | |

At a glance
Our Business Class offers discerning travellers a unique and exclusive class of travel. On the ground, customers can enjoy dedicated check-in, increased baggage allowance, express airport lanes and access to lounge facilities at selected airports. In the air, Business Class customers enjoy three course fine dining, a range of fine wines, spirits, liqueurs and a selection of cheeses. With individual screens, Business Class customers can select from a full range of in-flight entertainment.
Entertainment on Board
Discover FijiTime, our new in-flight entertainment programme on your next flight, offering a selection of movies, TV programs, CD albums and audio to help the time fly by.
In-flight Entertainment
We have an exciting selection of movies, tv shows, music, and games available for you to choose from. Click here to find out more about what's on offer onboard our flights.
A330 aircraft
Experience our on-demand in-flight entertainment from the moment you sit back and relax with entertainment options including Hollywood and Bollywood movies, a broad range of the latest TV series, over 550 albums, a selection of audio books and radio channels, games and more. You can also discover more about Fiji Airways and Fiji with our About Fiji section introducing you to our airline and our home.  Our FijiTime programming is available complimentary on flights between Nadi and Hong Kong or Los Angeles and to all our Business Class passengers. For our passengers on shorter flights, you can still relax with a range of complimentary in-flight entertainment options. We welcome you to browse the selections available and your cabin crew is available to help if any further assistance is required.
B737 aircraft
We are pleased to be able to offer complimentary entertainment options for all our passengers in Business and Economy class. Entertainment can include movies, TV series or other programming and is available throughout the main cabin on overhead screens or on your personal Business Class entertainment console. So we invite you to relax and enjoy FijiTime.
In-flight magazine
View our latest issue of FijiTime for details on airline news, What's on in Fiji, What's on board, fleet and arrival information including seat maps and our Na Store, in-flight shopping experience. 
Food and Beverage
In business class the airline has worked with Castaway Island Resort executive chef Lance Seeto to create inflight meals whilst local Fiji Rum cocktails and mocktails are served. Economy class passengers should expect two meal services on longer routes to the USA and Hong Kong, and on shorter flights either a hot meal or snack.