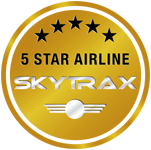 he Certified 5-Star Airline Rating is the highest category quality ranking used to certify airline product and service standards awarded to airlines achieving the highest, overall Quality performance, this 5-Star Airline rating recognizes the highest standards of Airport and On-board Product provided by an airline to customers, together with consistent and high standards of front-line staff service across the airport and on-board service environments.
| Aircraft | Seat Pitch | Seat Width | Seat Angle | Seats | Configuration | Internet |
| --- | --- | --- | --- | --- | --- | --- |
| Airbus A380 | 185 cm | 51 cm | 180 °   | 70 | 1-2-1 | |
| Boeing 787-9 | 185 cm | 56 cm | 180 °   | 28 | 1-2-1 | |
Airport Lounges
Etihad Airways Abu Dhabi Lounges
Video has no narration, no audio description
After arriving at the airport in style, relax in one of our lounges and soak up an intimate atmosphere that will set the tone for the luxurious flight you have ahead.
Etihad Airways Premium Lounge in Abu Dhabi
Video has no narration, no audio description
Dine, relax, work and freshen up prior to flying.
Our Premium Lounges in both Terminal 1 and Terminal 3 at Abu Dhabi airport offer our renowned world class services and facilities.
Building upon our pledge to offer the very best in the hospitality industry, walk into facilities closer to those you'd find in a boutique hotel. Look forward to spending the next few hours watching a film, enjoying a gourmet meal, or having a spa treatment.
A family room also provides children of all ages with their own world of fun and entertainment in a colourful and engaging setting.
We invite our Business Class guests to use our Etihad Premium Lounges which are located in Terminal 3 close to gate 35 and in Terminal 1 beside the Al Reem lounge after you clear security.
Etihad Guest Gold and Silver members travelling in Economy Class are invited to use the Al Reem lounge located in Terminal 1.
Key features
International buffet
Coffee stations
Style & Shave
Six Senses Spa
Concierge service
Shower rooms
Relaxation area
Prayer room (T3 Only)
Smoking room
Family room
Business centre
Den with individual TV pods
Special Services
Enjoy the luxury of a chauffeur service
Book chauffeur
Etihad Airways First and Business Class guests can enjoy personal chauffeur services at more than 40 cities across our network. This service is not available for Business Saver tickets.
Priority baggage check-in
Priority Immigration and Security Lane
Priority boarding
Priority baggage claim
Abu Dhabi Int Apt (AUH)
| Terminal Seating | |
| --- | --- |
| Terminal Cleanliness | |
| Queuing Times | |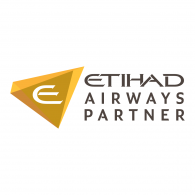 At a glance
Business Class with Etihad is not business as usual. The Business Studios on our A380 and 787 Dreamliner offer more space to work, rest and play. They can be customised to suit every stage of your journey and are the embodiment of style, simplicity and functionality.
Our Business Studio has a unique dovetail design with forward and rear facing seats, offering you increased personal space. The modern design creates a sense of space and freedom, with direct aisle access and convenient storage spaces.
The seat converts into a comfortable fully-flat bed of up to 6 feet and 8 inches. Seat and aisle dividers offer more privacy and each seat has aisle access
Entertainment on Board
Enjoy hundreds of hours of on-demand entertainment with noise-cancelling headsets. Keep in touch with friends or family with a range of connection ports at your fingertips and mobile or Wi-Fi connectivity on board for selected flights
Food and Beverage
Dine Anytime
Our Food & Beverage Managers are hospitality experts with experience of working in the best hotels and restaurants around the world.
They will guide you through our menu options and recommend the perfect accompaniment for your meal, whether that is a refreshing mocktail or a glass of bubbly from our wine list.
Our onboard café service offers light snacks and a choice of teas, coffees and hot chocolate.
Our wines are chosen from smaller boutique vineyards, not mass produced. The passion that goes into their making adds that special taste just for you.
Our Dine Anytime menus are inspired by the best upmarket bistros around the world. With Dine Anytime, you decide when you want to eat. And with a wide range of options, you'll always find something that right for your mood and taste.