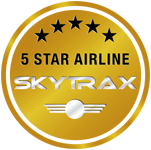 The Certified 5-Star Airline Rating is the highest category quality ranking used to certify airline product and service standards awarded to airlines achieving the highest, overall Quality performance, this 5-Star Airline rating recognizes the highest standards of Airport and On-board Product provided by an airline to customers, together with consistent and high standards of front-line staff service across the airport and on-board service environments.
Aircraft
Seat Pitch
Seat Width
Seat Angle
Seats
Configuration
Internet
Airbus A380
–
–
180 °  
9
2 – 2 (Upperdeck)
1

Airport Lounges
Etihad Airways Abu Dhabi Lounges
Video has no narration, no audio description
After arriving at the airport in style, relax in one of our lounges and soak up an intimate atmosphere that will set the tone for the luxurious flight you have ahead.
A lounge like no other
Our First Class Lounge & Spa is not like other lounges, it's your first opportunity to experience a different level of service and hospitality, before stepping on board your flight.
Our team will deliver service and hospitality comparable to that you would experience in a 5-star hotel.
Unlike other lounges, you won't have to queue at a desk when you arrive.
Only a few steps after security, you will be greeted by our Hostess, who will direct you upstairs to be personally introduced to the lounge. We have concierge desks inside the lounge to deal with your ticketing and service requests, so you don't have to leave until it's time to fly. We will take care of your bags for the duration of your stay in the cloakroom and will arrange for your clothes to be pressed while you are enjoying the lounge.
A completely reimagined lounge experience
The Dining Area
Choose from dining or casual seating areas, to enjoy our à la carte menus. We pride ourselves on making everything in-house, using the freshest ingredients.
Our signature dining has been designed to offer you options of a satisfying meal or an appetising bite.
Experience tastes from around the world with choices inspired by our home, Abu Dhabi and many of the destinations we fly to.
The Bar
Take a seat at the feature bar where a specially-trained mixologist will whip up one of our signature cocktails or mocktails, inspired by the destinations we fly to.
At the bar you can enjoy a choice of 75 premium spirits, wines from the Etihad international cellar and a selection of beer.
The Spa
Our Six Senses Spa offers a range of complimentary treatments, including massage and facials, for our First Class and The Residence guests.
Style & Shave by Etihad
You can also enjoy a complimentary 15-minute treatment in Style & Shave by Etihad. The ladies can use the nail bar or have a blow dry, while the gentlemen can take advantage of our wet-shave service.
Fitness Room
If you have not had time to work out before your trip or you have a long flight ahead, then our Fitness Room offers the perfect solution.
It's kitted out with state-of-the-art Technogym equipment, free weights and yoga mats. Everything that gym addicts might need for their daily fix.
You can even freshen up with a shower afterwards.
Relax and Recline Room
If you need to use this time to gather your thoughts, visit our Relax and Recline Room.
Recline on our comfortable Poltrona Frau leather chairs and enjoy a sensory experience with a combination of soothing sounds and imagery on our video wall. Any sounds from the main lounge will fade so you can lose yourself for a few minutes, or maybe longer.
Play Room
Our smallest guests will also have their own area to play during your stay with us.
Our Play Room has a Nanny, trained at the world-renowned Norland College, on duty at all times. You can relax knowing your little ones are in safe hands and have plenty of activities and games, including a Playstation, to keep them amused. 
Children will also be offered their own range of healthy meals and snacks for them to enjoy.
Cigar Lounge
For cigar aficionados, we have the First Class Cigar Lounge, with nine best-in-class varieties of cigars paired with a large selection of single malt whiskies and Cognac.
A separate smoking room is also available.
The Residence Lounge
Guests of The Residence will have their own exclusive lounge within the lounge, where they will have the undivided attention of the Etihad Butler.
The Residence Lounge has its own separate entrance, a spacious seating area, a private dining room, prayer room and a shower room.
Other features
TV Room
Prayer room and ablution
Bathrooms with shower
Clothes-pressing service
Invited Guests 
We invite the following guests to enjoy the facilities:
Guests of The Residence
First Class guests
Etihad Guest Platinum member with one guest
Eithad Airways Partner airlines platinum members with one guest
Virgin Australia Velocity Platinum members with one guest
Etihad Airways Premium Lounge in Abu Dhabi
Video has no narration, no audio description
Dine, relax, work and freshen up prior to flying.
Our Premium Lounges in both Terminal 1 and Terminal 3 at Abu Dhabi airport offer our renowned world class services and facilities.
Building upon our pledge to offer the very best in the hospitality industry, walk into facilities closer to those you'd find in a boutique hotel. Look forward to spending the next few hours watching a film, enjoying a gourmet meal, or having a spa treatment.
A family room also provides children of all ages with their own world of fun and entertainment in a colourful and engaging setting.
We invite our Business Class guests to use our Etihad Premium Lounges which are located in Terminal 3 close to gate 35 and in Terminal 1 beside the Al Reem lounge after you clear security.
Etihad Guest Gold and Silver members travelling in Economy Class are invited to use the Al Reem lounge located in Terminal 1.
Key features
International buffet
Coffee stations
Style & Shave
Six Senses Spa
Concierge service
Shower rooms
Relaxation area
Prayer room (T3 Only)
Smoking room
Family room
Business centre
Den with individual TV pods
Special Services
Enjoy the luxury of a chauffeur service
Book chauffeur
Etihad Airways First and Business Class guests can enjoy personal chauffeur services at more than 40 cities across our network. This service is not available for Business Saver tickets.
Priority baggage check-in
Priority Immigration and Security Lane
Priority boarding
Priority baggage claim
Abu Dhabi Int Apt (AUH)
| Terminal Seating | |
| --- | --- |
| Terminal Cleanliness | |
| Queuing Times | |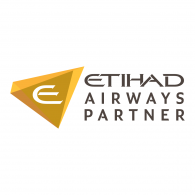 At a glance
We have revolutionised First Class with the First Apartment. More than just a seat, it has a large leather armchair and separate bed of 6 feet and 10 inches. There is even space to walk around after closing the privacy doors. The First Apartment is upholstered with the finest leather and features a wide armchair and a separate 6-foot 10-inch fully-flat bed.
The First Apartment is upholstered with the finest leather and features a wide armchair and a separate 6-foot 10-inch fully-flat bed. Six of the First Apartments are interconnecting, perfect for when you're travelling with a companion. Alternatively you might want to invite a travelling partner from First Class to join you in your apartment for a meal or a meeting. Freshen up in the First Class bathroom with an energising shower using exclusive amenities, before landing.
Entertainment on Board
Enjoy hundreds of hours of on-demand entertainment with noise-cancelling headsets. Keep in touch with friends or family with a range of connection ports at your fingertips and mobile or Wi-Fi connectivity on board for selected flights.
Food and Beverage
We take our inspiration from the world's leading fine dining restaurants. Only the freshest ingredients go into making our classic dishes. Relax in your private suite and dine anytime. We pay attention to the finer details, with our luxurious range of fine bone chinaware, cutlery and crystal glassware. Our selection of boutique fine wines are handpicked from the world's best vineyards and offer the perfect accompaniment to your meal. You can also experience our signature Cognac service. In the First Apartment, you'll enjoy a chilled refreshments cabinet, stocked with a premium selection of beverages.
Your culinary expert
Our Inflight Chefs are fully-qualified, internationally trained chefs. They will use their culinary expertise to invent an individual dining experience for you at 35,000ft.
Our Inflight Chefs have a passion for cooking. Your exclusive dining experience could include a dish from our extensive a la carte menu, a steak cooked as you like from The Grill menu, or something special using fresh ingredients from the pantry.