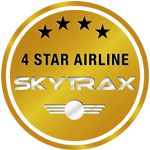 The Certified 4-Star Airline Rating recognizes those airlines that provide a good Product standard across different travel categories (ie. cabin travel classes), combined with delivering good standards of Staff Service for both the Cabin Service and their home-base Airport environments.
eo.
| Aircraft | Seat Pitch | Seat Width | Seat Angle | Seats | Configuration | Internet |
| --- | --- | --- | --- | --- | --- | --- |
| Boeing 777-200LR | 208 cm | 51 cm | 180 °   | 8 | 1-2-1 | |
| Boeing 777-300ER | 208 cm | 58 cm | 180 °   | 8 | 1-2-1 | |

Airport Lounges
Whether you need a few minutes to catch up on work or simply want to relax away from the crowds, you'll find our Lounges in international airports across six continents, including our A380 hub in Dubai.
Relax in the tranquility of our Dubai Lounges
Begin your journey with gourmet cuisine, a delicious beverage, and even a spa treatment
When you're leaving Dubai, prepare for the next stage of your journey with all your creature comforts close at hand. Our luxury lounges offer gourmet buffets, à la carte meals, and fresh juice bars. You can have your shoes shined or take some time for yourself with a soothing spa, massage or beauty treatment. Our First Class travellers can even sample and purchase exclusive vintage wines in a private wine cellar.
Connect with the unexpected
Find exclusive touches in our First Class Lounge
Savour gourmet cuisine and our full-service bar, keep tabs on the news or indulge in a treatment at the Timeless Spa. You can catch up on business with complimentary Wi-Fi and a fully equipped Business Centre. You can also charge your phone, tablet or other electronic devices in secure charging stations while you're waiting for your flight.
For a more personal shopping experience, splash out on luxury brands in our in-lounge Duty-Free Boutique. There's also plenty to keep young travellers entertained in our colourful children's play area, with games for all ages, toys and even a children's buffet.
Enjoy a drink, relax and be inspired in our Cigar Bar in the Concourse A Lounges before you connect to the rest of the world through Dubai.
Explore new worlds in every bite
Savour global flavours that take you places. Enjoy fine dining and an international selection of dishes, prepared using the freshest ingredients.
Make effortless connections
Enjoy direct boarding from our spacious lounge, so you can step straight on board when it's time to fly.
Make the most of your downtime
Relax in our Business Class Lounge
Start your journey with delicious cuisine and sample our range of premium beverages. Maximise your time in our fully equipped Business Centre or pause to savour a moment's peace in a quiet area.
To rejuvenate before the next stage of your journey, enjoy a pampering treatment at the Timeless Spa or freshen up in our private shower spas. If you're travelling with children, they'll love our play area.
Exclusive Moët and Chandon champagne lounge
In our bespoke Moët and Chandon champagne lounge, we're serving four of the iconic brand's most emblematic champagnes with a selection of canapés crafted by Michelin star chefs.
The contrast of just ripened peaches and mangos with pepper and marzipan in the Moët & Chandon Grand Vintage 2006 can be enjoyed with goat's cheese & emmental gougère, while the persistent intensity of berries in the Moët & Chandon Rosé Impérial is matched with the red fruits in our blackberry & pomegranate macaroons.
Experience the only Moët and Chandon champagne lounge in an airport lounge. The gold design concept and elegant seating in the lounge express the motion, fluidity and energy of Moët and Chandon champagne – and indeed, our customers.
Treat yourself to a guilt free snack
Stay on track when you travel and savour wholesome food from our new Health Hub. With fresh fruit selections, smoothies and juices packed with natural goodness and superfoods, you're sure to find something delicious that fits your healthy lifestyle and leaves you satisfied.
Help yourself to a hummus and grilled Mediterranean vegetable wrap or a salad – try the Scottish smoked salmon and blanched broccoli florets tossed with Brazil nuts. You can also graze on gluten free muffins, yogurt and vegetable crisps with fruit infused VOSS water.
Fuel up before your flight
In our Business Class Lounge in Dubai International airport Concourse B, you can now enjoy a personalised barista experience with Costa Coffee. A favourite among coffee lovers, Costa Coffee uses a unique blend from sustainably grown beans sourced from responsible farms.
Replenish your caffeine levels in stylish surroundings with an espresso, soothe your soul with a fragrant herbal tea or indulge in a fresh pastry or cookie while you wait for your flight to board.
Focus on what interests you
Catch up on the news, stay connected with complimentary Wi-Fi and don't skip a beat in our Business Centre.
Savour global flavours that take you places
Taste your way around the world with a choice of gourmet dining options.
Swap stories along the way
Meet fellow travellers in our bar areas and enjoy our range of complimentary premium beverages.
Enjoy effortless connections
Enjoy direct boarding straight from our spacious lounge in the Concourse A Lounges.
Make yourself at home
Indulge your need for comfort in one of the lounge areas.
Let the world melt away
Enjoy a moment of inspiration in dedicated quiet areas.
The Emirates Lounge
Unwind in our seventh lounge in Dubai International airport
If you're departing from Concourse C and travelling in First Class or Business Class – or you're an eligible Emirates Skywards member – you can now experience The Emirates Lounge at Dubai International airport.
Measuring 1,308sqmsquare meters (14,079sq ftsquare feet), our new lounge contains two dedicated dining areas, bespoke artwork and a state-of-the-art business centre.
The Emirates Lounge is open from 5am – 10am.
Outside of these hours, you're welcome to use our other lounges in Concourse C, which are open 24 hours.
Unwind before take-off
Pamper yourself at the Timeless Spa
The serene sanctuary of the Timeless Spa is the perfect place to rejuvenate between flights. Choose from a signature menu of treatments and beauty therapies to refresh before the next stage of your journey.
Whether you're looking for a de-stress back massage, reflex therapy, a manicure or hair styling, spend a little extra and enjoy some me-time. Or if you're flying First Class, you can indulge in our selection of complimentary treatments.
Quiet Lounge: To make your experience more relaxing, there are no boarding announcements in our lounges. Boarding starts 45 minutes before departure time.
Special Services
Experience a seamless journey from start to finish (Chauffer Service)
Our world-class service begins at your doorstep
Travel in comfort from the moment you leave your door. When you fly First Class or Business Class, you can book our complimentary Chauffeur-drive service and we'll take you to and from the airport in over 70 cities.
Priority baggage check-in
Priority Immigration and Security Lane
Priority boarding
Priority baggage claim
Dubai Int Apt (DXB)
| Terminal Seating | |
| --- | --- |
| Terminal Cleanliness | |
| Queuing Times | |

At a glance
Arrive inspired in First Class and make every journey your own
Meet other jet-setters at 40,000 feet in an ambient setting. Experience a more social seating arrangement and more open areas for mingling, and sink into relaxation with calming LED mood lighting while enjoying a cocktail and a selection of nibbles. Catch major live events with fellow travellers on the 55 inch LCD TV screen – with surround sound you'll feel like you're there.
You'll also enjoy unique touches throughout, like contemporary decor and the UAE's national Ghaf tree embellishing the walls – for a truly unique journey the moment you enter.
Feel pampered in First Class
Arrive refreshed with our Emirates Private Collection by Bulgari amenity kits
Prepare for the next step of your journey using our exclusive Bulgari amenity kits. We've introduced a new set of kits featuring Bulgari's woody floral fragrance – Eau Parfumée au thé noir. Our designer kits are filled with skincare essentials to keep you feeling fresh and pampered throughout your flight and we've added a lip balm to restore softness to your lips.
Our First Class kit bags are made from fine leather and come in charcoal grey for men and pale grey for women. We offer four designs for gentlemen and four for ladies, so frequent flyers can sample the entire collection.
You'll receive a complimentary kit on all our long-haul overnight flights.
Take care of your skin while you sleep
Slip in to the world's first moisturising sleepwear for the skies
Our new pyjamas for First Class customers travelling on overnight flights use Hydra Active Microcapsule Technology to keep your skin soft while flying. The fabric gently releases naturally nutrient rich sea kelp as you move around, preventing dehydration and stimulating circulation. Drape yourself with our soft sheep-skin like blankets, which are also exclusive to First Class customers, and settle in for a peaceful rest.
The pyjamas have matching slippers, an eye mask and a felt pouch so you can take them home with you – the Microcapsule Technology locks in the moisturiser so you can wash and wear them again.
Master the art of me-time
Take time to yourself in your own Private Suite
Slide the privacy doors closed and unwind in your own world. Enjoy a glass of exclusive wine or champagne, or help yourself to your personal mini-bar.
Turn down the ambient lighting, choose your entertainment, and relax in your private cinema.
Convert your seat into a fully flat bed with a mattress and drift into a restful sleep. Your vanity table and mirror help you prepare for the day ahead.
Fly in your own First Class Private Suite on most of our A380 and Boeing 777s.
Treat yourself to superior skincare products while you fly
Nurture and restore with our exclusive VOYA organic seaweed line
Ireland's seaweed bathhouses offer nature's full therapeutic power in its purest form. You can experience this 300-year old tradition on board with our select VOYA skincare line, carefully crafted using organic, hand-harvested seaweed.
Nourish your skin and hair with our full range of VOYA products including shampoo, conditioner, hand cream, moisturiser, body wash, soap and cleanser. Fragrances include rosemary & mint from the Revitalise range, lavender & rosemary from the Tranquility range, and lime & mandarin from the Soothing range.
Enjoy them in our onboard Shower Spa and in our First and Business Class washrooms. 
Entertainment on Board
Your window into new worlds
Visit places you won't find on a map with ice inflight entertainment
Choose from over 2,500 channels of the latest and greatest movies and must-see TV shows, on demand and in multiple languages. Relax to music from around the world, or play our range of fun games.
Witness breaking news, catch up on the world of business or see your team in action with ice TV Live on select aircraft.
Create your personal playlist of favourites and laugh, shed a tear or cheer your way to your destination.
Food and Beverage
First Class dining
Savour fine dining whenever the mood takes you in First Class – whether you crave a full meal or a tasty midnight snack
Experience our personal dining service
From sumptuous à la carte cuisine to a tasty midnight snack, our cabin crew will prepare your meals whenever the mood
takes you.
Explore new worlds in every bite of our regionally inspired dishes, created by our chefs using fresh, locally sourced ingredients. Dine from Royal Doulton bone china plates with exclusive Robert Welch cutlery. Match your meal with a fine wine selected by our sommeliers. Or choose from our list of complimentary cocktails, champagne, beers, spirits, and hot and cold drinks.
Experience gourmet dining above the clouds
Taste the vivid flavours of regional menus, and try healthy meal options prepared by our award-winning chefs.
Bring out the flavours of your meal
Choose from a selection of fine wines and limited editions. Or raise a glass of vintage 2006 Dom Pérignon.