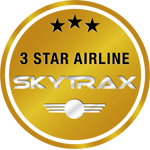 The 3-Star Airline rating signifies a satisfactory standard of core Product for most travel categories (ie. cabin of travel), but it also reflects some inconsistency amongst either standards of front-line Staff Service or Product delivery for the Cabin Service and their home-base Airport environments.
| Aircraft | Seat Pitch | Seat Width | Seat Angle | Seats | Configuration | Internet |
| --- | --- | --- | --- | --- | --- | --- |
| Boeing 747-400 | 254 cm | 85 cm | 180 °   | 8 | 2 – 2 | |
| Boeing 777-200 | 195 cm | 58 cm | 180 °   | 12 | 2 – 2 – 2 | |

Airport Lounges
King David Lounge
The King David Lounge has already earned a reputation in the business community as a meeting place for business associates and a unique venue for conducting business.
The Lounge offers business travelers a Business Center equipped with a fax, two telephones for local calls, connections for portable computers and high speed wireless Bezeq Business internet services.
The Lounge was planned and designed with your special requirements in mind. You can choose between comfortable armchairs or restaurant-style round tables and enjoy exhibits displayed there from time to time.
Day or night, you will find a rich assortment of refreshments available, from baked goods, fruits and cookies to a selection of hot and cold drinks, beer and wines. On the Gallery floor, in addition to work stations and sitting corners, you'll find showers and massage chairs as well as a pampering Spa area and cigar smoking room sponsored by David's Cigars.
Every guest may invite one additional guest (not including babies up to two years of age) to enjoy Lounge hospitality.
The Shalom Service EL AL staff in the King David Lounge is at your service to assist in all matters connected to your flight arrangements.
Spa Shizen Herzelia By Tamares Hotels at the EL AL Lounge
EL AL offers passengers an exclusive variety of spa treatments, free of payment, provided by the best therapists of Spa Shizen Herzelia by Tamares Hotels chain.
For your convenience, the spa complex is located on the Gallery Level of the Lounge, with a private treatment room as well as showers. Lounge guests may choose from a selection of 20-minute treatments.
The spa area is open as follows:
Sunday to Thursday from 3:30pm to 10:30pm
Treatments may be ordered in advance, Sunday to Thursday
from 08:00 am to 12:00 pm, on Fridays and holiday eves, until 12 noon (1pm during the months when Daylight Saving Time is in effect).
Guests who are entitled to be hosted in the Lounge:
EL AL First, Platinum and Business Class passengers
Top Platinum, Platinum and Gold Matmid Frequent Flyer Club members
EL AL passengers who are King David Club members
* Admission to the Lounge is conditional on presentation of your boarding card / flight documents.
* The lounge is available  when EL AL flights operate
Special Services
EL AL's First Class experience begins from home, with personal car service to drive you to the airport. We will meet you at the destination abroad, after landing, where our driver will take you to your address in the center of the city.
All you have left to do is  lean back, relax and enjoy as we bring you comfortably to and from the airport.
Priority baggage check-in
Priority Immigration and Security Lane
Priority boarding
Priority baggage claim
Tel Aviv Ben Gurion Apt (TLV)
| Terminal Seating | |
| --- | --- |
| Terminal Cleanliness | |
| Queuing Times | |

In a glance
​Comfort, relaxation, pampering personal space, quality EL AL service…
These and more await you as part of the exclusive flight experience that you deserve as our First Class passenger. We are pleased to offer First Class service on our 777 and 747-400 aircraft.
Our First Class crew will welcome you aboard and be at your service throughout the flight, to make it especially pleasant and comfortable.
We wish you a pampering sleep experience in the ergonometric seats that open into a full length bed (almost 2 meters long). For maximum comfort we will offer you an orthopedic mattress that was especially planned for EL AL's First Class passengers.
Entertainment on Board
A rich in-flight entertainment experience awaits you on your next flight, ensuring that the time spent on board is pleasant and enjoyable. On tap are new films, entertainment programs and a choice of Israeli and international music channels. In addition, Atmosphere magazine offers extensive information and features about EL AL's destinations, culture and leisure in Israel and the world and lots more.
The entertainment system varies according to the aircraft type, so we suggest that you check out Atmosphere magazine to see what's available on your flight.
A Personal Entertainment Experience
On EL AL's 747 and 777 aircraft you'll enjoy rich and varied entertainment programs on personal screens.
Streaming on EL AL Flights
On our 767 and some of 737 aircraft, state-of-the-art streaming technology enables you to watch a large selection of entertainment programs during the flight in maximum comfort on your own personal devices. Choose from a wide selection of films, series, music, children's entertainment, games and more.
Food and Beverage
Exclusive Culinary Experience
A special and rich experience for your palate above the clouds. Our Chefs have​ prepared Israeli and international menus, using the finest ingredients, selected especially for you.
Drink Bar
We are pleased to serve you from our international prize-winning drinks bar.
EL AL is proud to present its new and exciting wine list based exclusively on Israeli wineries. The varied drinks menu was created by Yair Haidu, an internationally known Israeli wine expert.
Heavenly Honors 
As part of the Cellars in the Sky wine competition conducted by the London-based tourism magazine Business Traveller in December 2013, EL AL won three prestigious prizes: Gold Medal in the category of dessert wine served to First Class passengers (Heights Wine of the Golan Winery); Bronze medal in the category of white wine served to First Class passengers (Viognier 2011 of the Golan Winery); Bronze medal in the category selection of wine offered on board.
More than 30 airlines competed, among them the largest and most respected in the world.
We are proud to serve our First Class passengers exciting wines from Israel's larger and well known wineries as well as new and surprising tastes from boutique wineries. For us, this is an opportunity to pay tribute to Israeli wines with character and a unique story, which adds to the special atmosphere we like to call: Home away from Home.