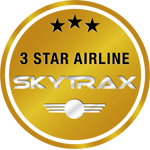 The 3-Star Airline rating signifies a satisfactory standard of core Product for most travel categories (ie. cabin of travel), but it also reflects some inconsistency amongst either standards of front-line Staff Service or Product delivery for the Cabin Service and their home-base Airport environments.
| Aircraft | Seat Pitch | Seat Width | Seat Angle | Seats | Configuration | Internet |
| --- | --- | --- | --- | --- | --- | --- |
| Boeing 747-400 | 72 cm | 45 cm |   | 34-40 |  3 / 3-4-3 | |
| Boeing 767-300 | 91 cm | 45 cm |   | 34-40 |  2-3-2 | |
| Boeing 777-200 | 91 cm | 45 cm |   | 34-40 |  2-3-2 / 3-3-3 | |
Airport Lounges 
(Business and First Class Only)
King David Lounge
The King David Lounge has already earned a reputation in the business community as a meeting place for business associates and a unique venue for conducting business.
The Lounge offers business travelers a Business Center equipped with a fax, two telephones for local calls, connections for portable computers and high speed wireless Bezeq Business internet services.
The Lounge was planned and designed with your special requirements in mind. You can choose between comfortable armchairs or restaurant-style round tables and enjoy exhibits displayed there from time to time.
Day or night, you will find a rich assortment of refreshments available, from baked goods, fruits and cookies to a selection of hot and cold drinks, beer and wines. On the Gallery floor, in addition to work stations and sitting corners, you'll find showers and massage chairs as well as a pampering Spa area and cigar smoking room sponsored by David's Cigars.
Every guest may invite one additional guest (not including babies up to two years of age) to enjoy Lounge hospitality.
The Shalom Service EL AL staff in the King David Lounge is at your service to assist in all matters connected to your flight arrangements.
Spa Shizen Herzelia By Tamares Hotels at the EL AL Lounge
EL AL offers passengers an exclusive variety of spa treatments, free of payment, provided by the best therapists of Spa Shizen Herzelia by Tamares Hotels chain.
For your convenience, the spa complex is located on the Gallery Level of the Lounge, with a private treatment room as well as showers. Lounge guests may choose from a selection of 20-minute treatments.
The spa area is open as follows:
Sunday to Thursday from 3:30pm to 10:30pm
Treatments may be ordered in advance, Sunday to Thursday
from 08:00 am to 12:00 pm, on Fridays and holiday eves, until 12 noon (1pm during the months when Daylight Saving Time is in effect).
Guests who are entitled to be hosted in the Lounge:
EL AL First, Platinum and Business Class passengers
Top Platinum, Platinum and Gold Matmid Frequent Flyer Club members
EL AL passengers who are King David Club members
* Admission to the Lounge is conditional on presentation of your boarding card / flight documents.
* The lounge is available  when EL AL flights operate
Special Services
Priority baggage check-in
Priority Immigration and Security Lane
Priority boarding
Priority baggage claim
Tel Aviv Ben Gurion Apt (TLV)
| Terminal Seating | |
| --- | --- |
| Terminal Cleanliness | |
| Queuing Times | |
At a glance
Between Economy Class and Business Class, yet another option awaits you, offering an enhanced flight experience – more space, more quiet and more comfort. The Economy Class Plus flight experience is yours to enjoy on our 747-400, 767-300 and 777-200 aircraft; the service entails a payment.
More Comfort! Our guests in Economy Class Plus enjoy a separate cabin, ergonomic seats with more legroom than in Economy Class (36"/91 cm), up to a 33% greater recline than Economy Class and a special footrest for greater comfort.
Entertainment on Board
Our Economy Class Plus passengers enjoy a larger selection of entertainment programs, with a personal iPad offering varied programs to make your flight more enjoyable, onboard planes which do not offer personal viewing screens (767, 737 fleets). 
Food and Beverage
We're pleased to offer you Economy Class Food and Beverage Service… and more. Economy Class Plus passengers will also receive individual bottles of water for a more refreshing flight, a comfort kit for that extra bit of pampering, and more.