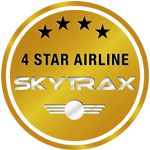 The Certified 4-Star Airline Rating recognizes those airlines that provide a good Product standard across different travel categories (ie. cabin travel classes), combined with delivering good standards of Staff Service for both the Cabin Service and their home-base Airport environments.
| Flugzeug | Sitzabstand | Sitzbreite | Sitzneigung | Sitzanzahl | Konfiguration | Internet |
| --- | --- | --- | --- | --- | --- | --- |
| Airbus A320-200 | 81 cm | 45 cm |   | 12 | 3-3 | |
| Airbus A330-300 | 122 cm | 48 cm | 118 °   | 36 | 2-2-2 | |
| Airbus A330-300 | 122 cm | 48 cm | 118 °   | 36 | 2-2-2 | |

Airport Lounges
Read, enjoy a cup of coffee, maybe a snack, write some emails – waiting for your flight can't really be more comfortable or more relaxed. An overview of the Lounges where a warm welcome awaits you before your departure in Zurich / SWISS Business Lounges
Special Services
Priority check-in
Priority baggage check-in
Priority Immigration and Security Lane
Priority boarding
Priority baggage claim
Zurich Kloten Apt (ZRH)
| Terminal Seating | |
| --- | --- |
| Terminal Cleanliness | |
| Queuing Times | |
Geneva Cointrin Apt (GVA)
| Terminal Seating | |
| --- | --- |
| Terminal Cleanliness | |
| Queuing Times | |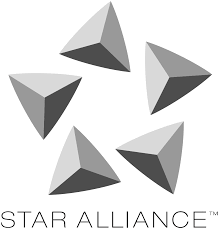 At a glance
Heading to your dream destination
There is nothing ordinary about how we welcome our Business Class passengers on board. Our focus is on making sure your holiday starts the moment you step on board. Whether your flight is ninety minutes or four hours: we want you to enjoy every single moment of it. To that end, our Cabin Crew will do their utmost to fulfil your every wish. What a splendid way to travel!
Entertainment on Board
Enjoy plenty of entertainment on short- and medium-haul flights, now available free of charge on board the Edelweiss Airbus A320. To access the Edelweiss Entertainment System, simply connect your mobile device (smartphone, tablet or notebook) to our board server.
You'll find that time flies when you fly with us. Johnny Depp, Angelina Jolie and the others will see to that: film stars and starlets in over 180 films and TV programmes will have you laughing, dreaming or gripping the edge of your seat. Classic films, TV series or children's films, there's plenty to keep you entertained. And if you'd rather sink into a world of music, we have 270 CDs and play lists for you to choose from. We're sure you'll find your favourites among them. And if you feel like playing some games, we can offer you Sudoku or multi-player 3D games. We hope you have an entertaining journey!
And what's on?
We share our entertainment selection with our sister airline, SWISS. And so you never get bored, we change it regularly.
Food and Beverage
Holiday time is enjoyment time. What better way to herald it than with some culinary pampering.
Look forward to delicious culinary specialities and beverages on board your flight. Your crew will conjure up the finest menus for you, paying utmost attention to detail. All dishes are fresh and prepared daily with seasonal ingredients using Swiss products whenever possible. This is important to us so as to provide for local added value. Bon appétit!
Our delicious lunches and evening meals, served high above the clouds, are the perfect way to start your holiday.
Good food and good wine go hand in hand
Good food is best enjoyed with a good wine. Our exclusive wines are selected to match the season and our menus. In this respect, we are delighted to have Wyhus Belp AG as our esteemed partner. As a "Member of the Bataillard Group", Wyhus Belp is part of one of the largest privately run wine-trading corporations in Switzerland. For more than forty years, the unwavering commitment of the company has been the sale of quality wines from Switzerland and abroad whilst maintaining a close personal contact with the wine producers.