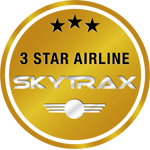 The 3-Star Airline rating signifies a satisfactory standard of core Product for most travel categories (ie. cabin of travel), but it also reflects some inconsistency amongst either standards of front-line Staff Service or Product delivery for the Cabin Service and their home-base Airport environments.
| Aircraft | Seat Pitch | Seat Width | Seat Angle | Seats | Configuration | Internet |
| --- | --- | --- | --- | --- | --- | --- |
| Boeing 767 | – | – |   | 28 | 2-1-2 | |
Airport Lounges
Relax and unwind in the Air Niugini Paradise Lounge prior to your International or domestic departure.
LOUNGE AMENITIES
Snacks
Newspapers & Magazines
TVs
Flight Monitors
18+ Cardholder
Non-Smoking
Wi-Fi
Special Services
Priority Check In
Priority Immigration and Security Lanes
Priority Baggage Handling
Port Moresby Jacksons Apt (POM)
| Terminal Seating | |
| --- | --- |
| Terminal Cleanliness | |
| Queuing Times | |
At a glance
Relax in comfort
To ensure the comfort and safety of all our passengers, the Cabin Services team professionally clean all our aircraft cabins from top to bottom after every flight.
They are highly qualified in cleaning commercial carriers, using procedures that exceed the standards of other airlines in Papua New Guinea.
With only a small timeframe available between flights, the team work quickly to restore our cabins to a "like new" condition.
The result is a sparkling clean aircraft that makes us proud to welcome you on board.
Entertainment on Board
Sit back and relax with in-flight entertainment.
Food and Beverage
Catering to your needs
Whether it's a hearty meal for our economy class customers or intricate canapés for our VIP guests, Air Niugini Catering creates cuisine to suit everyone's tastes.
Our kitchen is our creative hub, where we brainstorm new menus and prepare a wide array of delicious dishes. Every item on our menu needs to meet the highest standards, so we have strict guidelines in place to make sure you're served the best of the best whenever you travel with Air Niugini.
Premium service
Our premium catering service delivers the crème de la crème of in-flight cuisine to our very special customers who travel in business class, on VIP charter flights or by private jet.
We also provide food and beverages for airport lounges managed by Air Niugini VIP Lounge staff – serving a wide range of hot and cold buffet meals throughout the day including breakfasts, lunches, dinners and afternoon tea.
Our experienced team of chefs work closely with our cabin crew, marketing and finance teams to develop mouth-watering menus that provide the exceptional quality and first-class service our special guests expect.