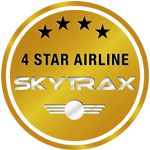 The Certified 4-Star Airline Rating recognizes those airlines that provide a good Product standard across different travel categories (ie. cabin travel classes), combined with delivering good standards of Staff Service for both the Cabin Service and their home-base Airport environments.
| Aircraft | Seat Pitch | Seat Width | Seat Angle | Seats | Configuration | Internet |
| --- | --- | --- | --- | --- | --- | --- |
| Boeing 777-200ER | 155 cm | 55 cm | 180 °   | 16 – 40 | 1-2-1 | |
| Boeing 777-300ER | 155 cm | 55 cm | 180 °   | 60 | 1-2-1 | |
| Boeing 787-9 | 155 cm | 55 cm | 180 °   | 30 | 1-2-1 | |
At the airport

Airport Lounges
THE LA PREMIÈRE EXPERIENCE AT PARIS-CHARLES DE GAULLE
SERVICE AS SOON AS YOU EXIT YOUR CAR
Upon your arrival at the airport, our staff welcomes you at Terminal 2E, across from Gate 14, the exclusive meeting point for La Première guests.
A porter will take care of your baggage as you proceed to a private check-in lounge, where our staff handles your check-in and any other airport procedures.
REST AND RELAXATION IN THE LA PREMIÈRE LOUNGE
At the airport, take advantage of a relaxing moment in the
La Première lounge.
Enjoy a snack or meal, flip through an art book, watch the news in HD, work or recharge in the Biologique Recherche spa treatment center.
DELECTABLE CUISINE
Treat yourself to a tasty snack or enjoy a full meal or cocktail: anything is possible in the La Première lounge.
Choose from our list of wines and menu items selected by chef Alain Ducasse and enjoy a fine dining experience with our elegant table service.
A SPACE DEVOTED TO YOUR WELL-BEING
In the Biologique Recherche center, enjoy personalized spa treatments, including special facials and body treatments designed to meet the needs of frequent travelers. Relax and recharge for 2 hours with the deluxe La Première treatment: a unique combination of well-being and escape.
WORK AND PLAY
Everything is possible in the independent and personal spaces of the La Première lounge: flip through an art book, read newspapers and magazines, stretch out and relax, watch the news in HD, get some work done and more!
Do you have work to do? A fully equipped personal space designed to preserve your privacy is available. The lounge includes a library, which is stocked with your favorite newspapers and a wide selection of books and magazines.
OUR DIGITAL PRESS SELECTION FOR TABLETS
Our Air France Press app for tablets enables you to download your favorite newspapers and magazines at no extra charge beginning 24 hours before your flight and up to your departure time.
Priority Service
SIMPLIFIED BOARDING
You receive priority access at security checkpoints. After proceeding through security, our staff will take you to your aircraft in a prestigious car.
Once on board, you are personally introduced to the crew. You can then take your seat at your leisure and prepare to take full advantage of the La Première travel experience.
A FULL TEAM AT YOUR SERVICE
All throughout your trip, including upon arrival and during connections, an Air France team member will be available at your side at every turn. You receive priority access when exiting the aircraft and our staff will accompany you to the baggage claim area.
During connections, you will be welcomed immediately upon arrival and accompanied to the La Première lounge.
Paris Charles de Gaulle (CDG)
| Terminal Seating | |
| --- | --- |
| Terminal Cleanliness | |
| Queuing Times | |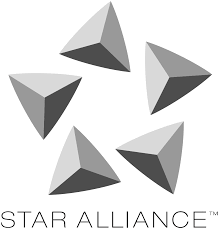 In the air

At a glance
Discover the new Business cabin: an exclusive, convenient and peaceful space,
available on some of our intercontinental flights.
A NEW PERSONALIZED CABIN
To ensure your comfort and well-being all throughout your flight, we designed the new Business cabin, now available on certain intercontinental flights.
The new cabin serves as an office, restaurant, entertainment lounge and bedroom. You decide how to use the cabin to meet your needs.
THE BUSINESS SEAT: YOUR COCOON
You will love the contemporary design and subdued elegance of our Business seat: a graceful shape, padded upholstery, footrests, leather armrests, topstitching on the headrest and metallic finishing touches. Every detail is designed to ensure your well-being, comfort and privacy throughout your flight.
The seat becomes a helpful travel companion, adapting to meet all your needs. Need to work? How about some rest or sleep? Adjust the seat to the position that is right for you.
The new Business seat represents our vision of the travel experience. Your benefits include the following:
A fully flat bed
Direct access to the aisle for every passenger
A multipurpose area (desk, restaurant table, bed) offering even greater privacy
A FULL BED FOR A FULL NIGHT'S SLEEP IN THE SKY
We work to make sure you get a peaceful night's sleep in a seat that transforms into a full bed. Nearly 2 m / 6.5 ft in length, it is made of comfortable materials and an armrest that lowers completely. With this additional space, you are free to find the sleeping position that is right for you.
Take advantage of accessories designed to help you avoid jet lag: an XXL feather down pillow and a soft duvet in glacier blue and warm grey.
DETAILS THAT MAKE A DIFFERENCE
In the Business cabin, each of your electronic devices—smartphone, tablet and laptop—has a secure place in the storage areas. You can also charge them using a personal power outlet and USB port.
Your personal storage compartment features an elegant red interior and contains noise-reducing headphones as well as a mirror. Store your daily-use items here to keep them close at hand.
You can also adjust the lighting to meet your needs: reading, ceiling and ambience lighting. You are free to orchestrate the flight you want!
Entertainment on Board
MAKE YOUR SELECTION… AND FLY AWAY
Turn on your 16-inch HD touchscreen and transform your space into an entertainment lounge: movie classics and blockbusters, foreign films in the original language, concerts, documentaries, TV series, music, games and more are at your fingertips. Updated every month,
our varied programming
gives you plenty of opportunity to relax and enjoy yourself. Your getaway starts as soon as you get on board!
Food and Beverage
A CULINARY ADVENTURE
In the Business cabin, your culinary voyage begins with a glass of champagne.
On flights departing from Paris, several ambassadors of French and international cuisine compete to wow you all throughout your trip. Throughout your meal, you will discover the creations of
Michelin-starred grands chefs (great chefs) like Régis Marcon, Michel Roth and Guy Martin. These chefs have prepared both savory and sweet delicacies: aperitifs, appetizers, hot dishes, cheeses, pastries, sorbets and fruits. Your taste buds will tingle with delight!
A TRIP THROUGH WINE COUNTRY
By traveling in the Business cabin, you also have the chance to discover or rediscover classic wines from every region of France on our wine list. Savor them in sleek, elegant glasses designed by Jean-Marie Massaud.
Hot beverages and digestifs round out this delectable and unique culinary experience.
Savor dishes crafted by Michelin-starred chef Daniel Boulud on flights departing from the United States and Canada to Paris. And on your flights from Paris to Seoul, new meals created by Korean chef Youn-Young Kim introduce you to the rich flavors of Asia!